Shelby City Park Carrousel Friends, Inc.
welcome to one of six Restored Antique Carrousels in North Carolina
Winter Schedule Carrousel Only (December, January, February): Friday & Saturday, 1 PM - 5 PM. Sunday 1:30 - 5 PM

Spring and Fall Carrousel and Rotary Train Schedule (March, April, May): Thursday, Friday & Saturday 1:00 -6 PM, Sunday 1:30 - 6 PM

Summer Carrousel and Rotary TrainSchedule (June, July, August): Tuesday through Friday, 10 AM-1 PM & 5-8 PM. Saturday 1:00 -6 PM, Sunday 1:30 - 6 PM


For Shelby Parks and Recreation general information on programs and facilities, please visit the Parks and Recreation web site for the City of Shelby at http://www.cityofshelby.com/parks

Download Carrousel and Train Brochure (1/2 MB)


Amusement Schedule
Hours of operation and rules and regulations are available.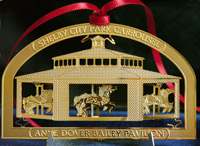 Gift Shop in the Pavilion is open most weekends. Would you like to volunteer?

Shelby Carrousel Ornaments. Click here to order . Or call 704-484-6476.
"Restoring the Dream" video documentary.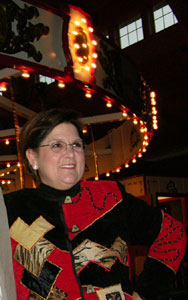 With great sadness we say goodbye to Carrousel artist Brenda Lowery who died suddenly and unexepectedly on Sept. 5, 2006. Brenda was a joy to be around, cared deeply about others and left an incredible legacy, along with the other painters who brought this carrousel back to life through their creative efforts. Brenda will especially be remembered for some of the most intricate designs on sadles and tack areas. Memorials may be made to the American Heart Association.










Shelby Rotary's Miniature Train - Click here for information, and pictures on the Rotary Special City Park train. Mickey Shull Izzi Rotary Train Depot opened on April 25, 2002.
Twenty-nine original horses were restored and painted. Three new horses and two new chariots made and painted, fourteen Carrousel Band Organ provides stirring music! Re-assembly of the "mechanism" in the new building was completed in October 1998.
The Shelby City Park Carrousel hosted the National Carousel Association's Technical Conference on May 2-4, 2003.

New! National Carousel Association photoshow project on the Shelby City Park Carrousel. Click to see.
The menagerie figures: A Looff Lion and Elephant, and two Spillman dogs are special pieces that have a history on the Shelby Carrousel. They are not part of the restored carrousel since they are not original to it and they are in seriously deteriorated condition. The Lion and Elephant are in diplay in cases thanks in part to a grant from the NC Arts Council, and Shelby City Park Carrousel Friends, Inc., and contributions of design and labor from Broad River Glass and Steve Davis.
Ground was broken on the Anne Dover Bailey Carrousel Pavilion on May 11, 1998. The Pavilion and Carrousel were dedicated on October 17, 1998.
How to get to the Carrousel in Shelby.

Library of Congress Local Legacies Project.
---
Thank you "Partners in the Pavilion" campaign donors!
The Carrousel now has a safe, secure home. All contributions are appreciated. Corporations, families, and individuals who sponsor major components will be recognized permanently for each component.
Anne Dover Bailey Carrousel Pavilion — photo by Randy McNeilly

 
Map and General Information Sponsorship Information
 
Facility Rental;
Carrousel Hours; Rules/Regulations;
Day Care/Schools Policy
 
Pictures and story of the Restoration
 
Sponsorship Information
 
Links to Carrousels and Band Organs
 
Chariots
 
Mission Statement of SCPCF
 
Membership and Bibliography
 
Volunteers and In-kind gifts
 
Current Sponsors
 
Rounding Board Paintings
 
New Carrousel Building
The Anne Dover Bailey Pavilion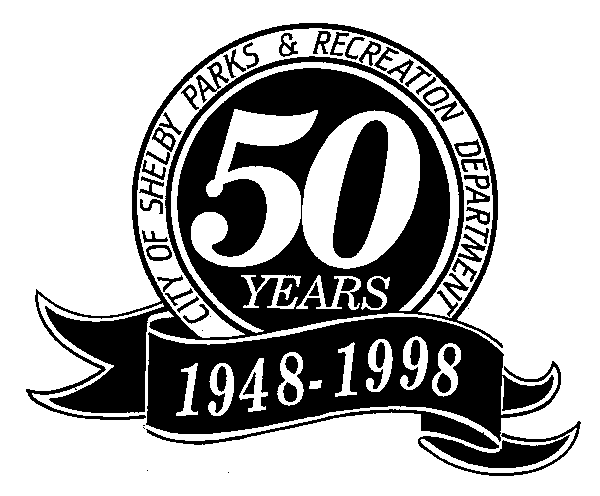 For more information:
info@carrouselfriends.org
or by mail:
Shelby City Park Carrousel Friends, Inc.
P.O. Box 704
Shelby, NC 28151-0704
Telephone at the Carrousel Pavilion: 704/484-6476
City of Shelby Parks and Recreation Department
Drawer 207, Shelby, NC 28151-0207
Telephone: 704-484-6811
Content and images may not be used for commercial purposes or without permission. E-mail info@carrouselfriends.org for permission.