Carrousel Gift Shop
at the Shelby City Park Carrousel
850 West Sumter St.
704/484-6476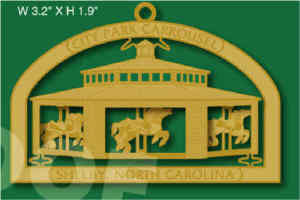 New Brass Ornament for Christmas 2004

Please visit the Gift Shop when you visit the Carrousel. Operated by volunteers for Shelby City Park Carrousel Friends, Inc., all proceeds are to go toward future restoration needs and improvements at the carrousel. Click here to send an email requesting more information or call 704-484-6476
Items for sale include post cards, T-shirts, sweatshirts, jewelry, sun catchers, posters, and souvenir items.
Also available for a $1 donation each are buttons for each horse ("I rode ____"), certificates, and special opening day section of the Shelby Star along with the day's paper.
We welcome new volunteers to work in the Gift Shop. Call the Carrousel or 704-484-6476 for more information.

Returnto Carrousel Home Page