Latest assembly pictures and information.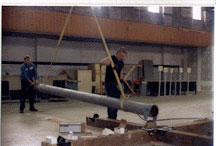 After fitting up the mudsills and mounting the hardware, Eddie Elliott and Horace Weaver set the Center Pole in place and connect the hinge fitting.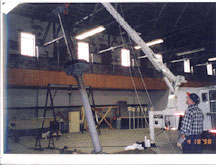 When the main bearings and hub are secured to the pole, it is lifted up into position like raising a flag.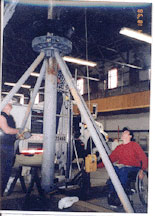 The brace hub, sweep hub and master gear are lowered down onto the brace pipes which form a pyramid shape to hold most of the weight and keep the pole centered. Tommy Forney lets the hub down as Horace and Eddie guide everything into place and lock it down with set screws and a through pin.
Sweeps have been inserted into the sockets, hung from the guy rods and cross rails installed to keep them uniformly separated. The twelve horse cranks are installed and their beveled gears are adjusted to the master gear with the "crow's nest bearing assembly" which keeps the gears located and running with the proper gear mesh. Tommy Blanton helps Eddie mount up the T-bearings on the crank shafts.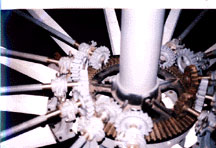 View from the top showing the gears riding the stationary master gear. As the machine turns, the cranks are turned...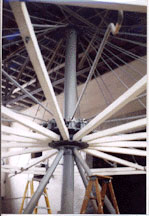 ...and the horses ride in the crank offsets so that they jump smoothly up and down. (Later)
This mechanical crew is all volunteer like the painters, so give 'em a hand. And thanks to Rutherford EMC for letting Eddie bring his service truck--a BIG help. Horace and the City of Shelby play a major part, as well as lots of others who are contributing their talents.
Latest assembly pictures and information.


Return to Carrousel Home Page