Invest in the future...
Shelby Rotary Club's City Park Train Restoration Project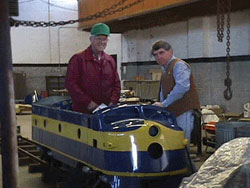 Harold Weaver and Jerry Henry took on the mechanical restoration.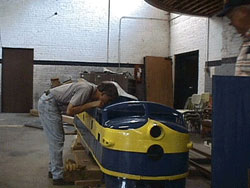 "You in there, Harold?"
The "Rotary Special" was purchased brand new by the Shelby Rotarians for the City Park in 1952. It is an Alan Herschell Miniature Train G-16 Streamliner model that was a faithful scale replica of the classic F-3 diesel that actually is powered by a four cylinder air-cooled Wisconsin engine.The Restoration of the Train itself was completed and installed on brand new track in the spring of 2000. It ran at the Foothills Merry-Go Round Festival in April of 2000, and at the festival in 2001. It then ran for about a month until the Depot construction project began on June 6, 2001. The train opened for good at the 2002 Foothills Merry-Go-Round Festival April 27th. Tony Izzi is the head "Engineer" for the Rotary Club.

For information on the restoration contact Tony Izzi at 704-487-8888. Shelby Rotary Club Foundation, P.O.Box 1530, Shelby, NC 28151. Click here for Depot Construction pictures.
Contact the Shelby Parks and Recreation Department at (704) 484-6839 [main office] or (704) 484-6476 [Carrousel and Train].